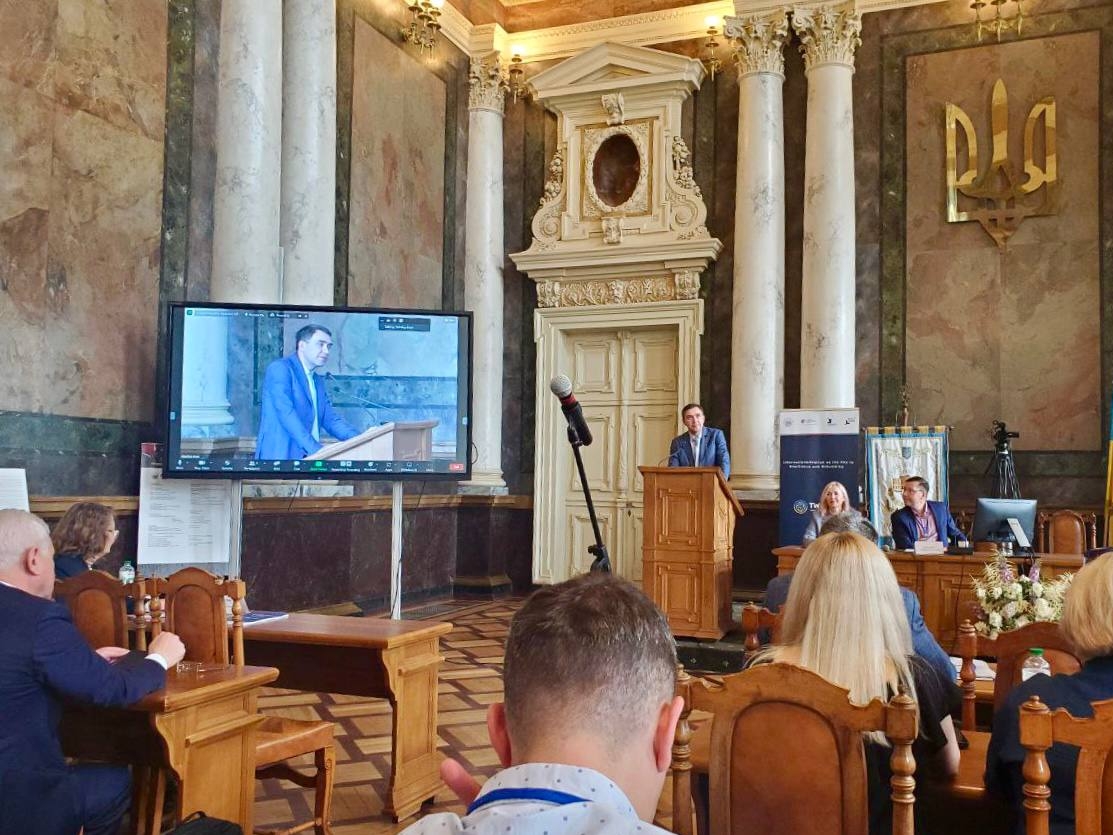 On 9 June, representatives of more than 60 Ukrainian higher education institutions and their British partners gathered in Lviv at the International Conference "Internationalisation as a Key to Sustainability and Recovery: The First Year of the Twinning Programme" to summarise the first year of the Twinning project (main achievements and challenges of cooperation) and consider the Programme Strategy for 2023-2024.
The event was attended by representatives of more than 60 higher education institutions in Ukraine and the UK. Oleksandr Smirnov, Acting Vice-Rector for Research at the State Tax University, also joined the conference.
The official opening of the event began with welcoming remarks from distinguished guests, including:
Vivienne Stern, Chair of the Association of British Universities;
Head of the Expert Group on Integration into the European Research Area of the Directorate of Science and Innovation. Hryhorii Mozolevych, Head of the Main Directorate for the Implementation of Science and Innovation Policies of the Ministry of Education and Science;
Olga Budnik, Presidential Commissioner for the Presidential Foundation for Support of Education, Science and Sports;
Jamie Arrowsmith, Chairman of the Association of British Universities International.
The conference was moderated by Gintaras Steponavicius, Cormack Consultancy Group.
Subsequently, the conference participants reviewed six case studies - examples of the most successful twinning of higher education institutions in the UK and Ukraine; identified priorities, needs, future projects and ways for internal and international cooperation at the brainstorming session and listened to presentations at panel discussions. The guests also had an informal networking session where they were able to discuss their ideas, share their experience of cooperation, or simply talk to representatives of Cormack Consultancy Group: Aziz Bussofiane, Gintaras Steponavičius, and Oleksandr Smirnov.
It is worth noting that the conference identified areas for expanding cooperation with the STU's twinning partner, Glasgow Caledonian University (GCU). In particular, pedagogical, scientific activities and academic mobility.
The partnership of UK and Ukrainian higher education institutions within the Twinning initiative has demonstrated the ability of Ukrainian universities to unite, interact effectively, and receive the latest technologies, resources, and financial support to preserve and rebuild their own universities.
For reference: The UK-Ukraine Twinning Programme is a model of cooperation between educational and research institutions coordinated by Cormack Consultancy Group and the Presidential Foundation for Education, Science and Sport with the support of Universities UK International. The initiative allows UK universities to support their Ukrainian counterparts in the field of educational and scientific cooperation.
The main goal of Twinning is to preserve the integrity of the Ukrainian higher education system and to help Ukrainian higher education institutions overcome the crisis with additional resources, skills and strong international experience. Twinning involves a long-term commitment (minimum 5 years) between the participating institutions to promote a stable and mutually beneficial partnership.