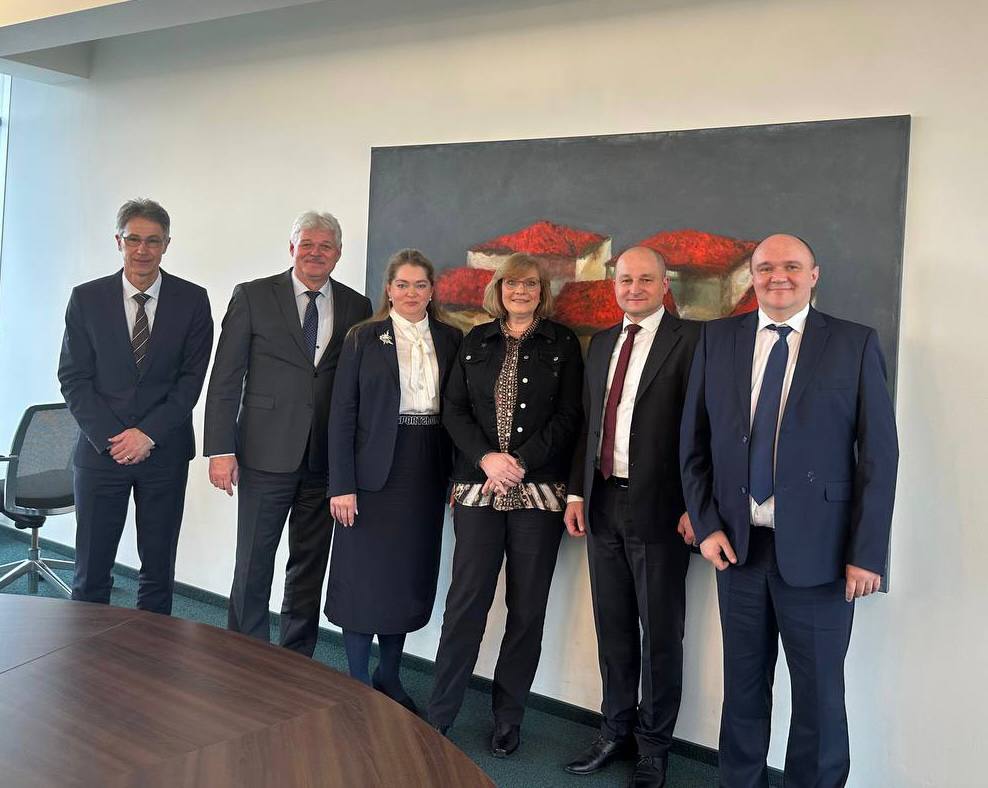 On 28 April, as part of his visit to Germany, Acting Rector Dmytro Serebrianskyi met with Reinhard Verholen, President of the Chamber of Tax Advisers of Düsseldorf, and Dr Gregor Feiter, Managing Director of the Chamber of Tax Advisers of Düsseldorf. The meeting was attended by representatives of the University: Vice-Rector for European Integration and Digital Transformation Andrii Boldov and Associate Professor of the Department of Administrative Law, Process and Customs Security of the Institute of Economic Security and Customs Iryna Petrova.
The meeting focused on the specifics of tax advisers' activities in Germany, namely training, retraining, advanced training, legal grounds for work and responsibility of tax advisers. Mr Verholen emphasised the necessary conditions for the functioning of the tax advisory institute and its role in shaping the tax culture. 
During the negotiations, agreements were reached on the possibility of involving higher education students of the State Tax Service of Ukraine in the three-year training programme "Tax Advisor".
The specialised courses of the Chamber of Tax Advisers in the dual form of education (two days a week - study, three days a week - work in the practical unit, student's salary - EUR 1,100 per month, students rent their own accommodation) will be held in German or, as an exception, in English with the subsequent receipt of the European certificate "Tax Advisor" by the programme participants. The possibility of involving bachelor's degree graduates in the programme is also being considered. The programme is expected to start in July-August 2023.
It should be noted that the programme is also open to teachers who have moved from Ukraine to Germany and have an appropriate level of German language proficiency.
The implementation of such a programme is a unique international experience, knowledge and new opportunities for the educational family of the State Tax University. 
For reference: there are 101,070 officially registered tax advisers in Germany, which are united in 21 chambers of tax advisers. The Düsseldorf Chamber of Tax Advisers (9,708 advisers) is the second largest in Germany. Only the Munich Chamber of Tax Advisers (12,907 advisers) is larger.